It's no myth, the hosting market is tight these days. You have to set yourself apart from the hundreds of other managed service providers and earn client's respect. That's exactly what we do every day at EvergreenTech.io. We fight to earn your respect by answering questions the other guys won't. We go above and beyond with every ticket submission. You might not see it, but as soon as a ticket hits our queue, our people are discussing it behind the scenes, delegating to the correct responder, and thinking of how to best handle the situation. We do this quickly and diligently and I think that's why we maintain EXTREMELY high marks on all of our reviews.
Our Hardware
We use only lightning fast state of the art solid state drives. This has allowed our customers to experience the fastest non-memory write and read speeds available on the web today. Yes, your pages will load fast. Our servers are constantly being upgraded to the latest memory module and processor on the market. This all happens behind the scenes and with redundancy so your business never skips a beat.
We have hardware firewalls and automatic backup mechanisms to keep your data safe and never fall far behind. With our datacenters located around the world, you can build the global brand you need. 40 Gigabit ethernet (40GbE) network speeds allow for near real-time data transmission.
Our Service
Beyond premier hardware and networking, our service is what sets us apart. We don't just install apache or nginx and wish you the best of luck.We help every step of your online journey, whether it be blogging, eCommerce, or a news site. Depending on customer needs, we install modified versions of server software you won't find anywhere else. For WordPress we have a custom version of the amazingly fast OpenLiteSpeed server. This allows our clients to see gains of seconds in load time and general speed, not milliseconds. This custom webserver is built around speed and scalability. Our servers are anti-DDoS, come with intelligent page caching and optimizations, has event driven architecture allowing you to run faster websites on less hardware. I think the chart below will sum it up: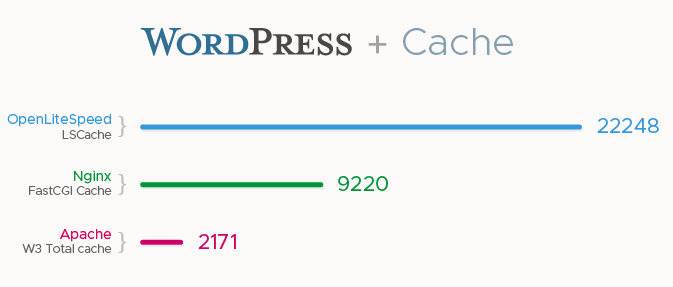 Reliability
Reliability is EvergreenTech.io's goal. We want to be here for you at all times. If you're having an issue with your website, then we have an issue, even if it's not our fault. We love teaching our clients and have some great instructors that excel at wording complex server lingo in laman's terms. We learn your business and help you succeed. We learn from you everyday and hope you can learn with us as we grow on the internet together. We've even been known to give shout outs to outstanding customers on our media channels 😉